Here we will show how to configure support for the New Zealand Alcohol Excise duty rates within vintrace and how to integrate Excise tax as a liability to external accounting packages such as Xero.
Setting the Alcohol metric
Before we begin it's important to make sure that you have the Excise Alcohol Metric set to "Alcohol". If it is not, then wine that you have packaged will not auto-calculate the estimated Alcohol percentage, even when you have entered the % alcohol against the packaged stock item. This is configured under Winery Setup > Work-flow > Defaults.
Set up Tax rates
Next you will need to configure the appropriate Tax Rates. If you are new to tax rates you can click here to read more about them.
Tax Rates and Duties can be configured under Winery Setup > Tax.
Follow the instructions in the Configuring tax rates article.
Excise tax (duty) rates
Next we need to set up the Excise Duties. This is only visible for vintrace clients in the New Zealand locale.
Here we've configured the 2018-19 excise rates for wine. You can configure other rates, but only one Excise rate may be active for the given time span.
Link tax rate to the Sales price list
Next we set the Tax rate to our desired Sales price list. If you are new to sales price list, please read about them here.
When creating Sales orders it's important to ensure the correct Tax Rate is set for the items you are selling. This can be defaulted on individual price lists as shown in the screen shot above.
Alcohol value
As you add items to a sales order where the Excise tax rate is selected, you may see this dialog. It asks for the alcohol value of your wine. If you have measured the metrics and have a volume on your wine vintrace will calculate the alcoholic percentage; you may confirm or modify it.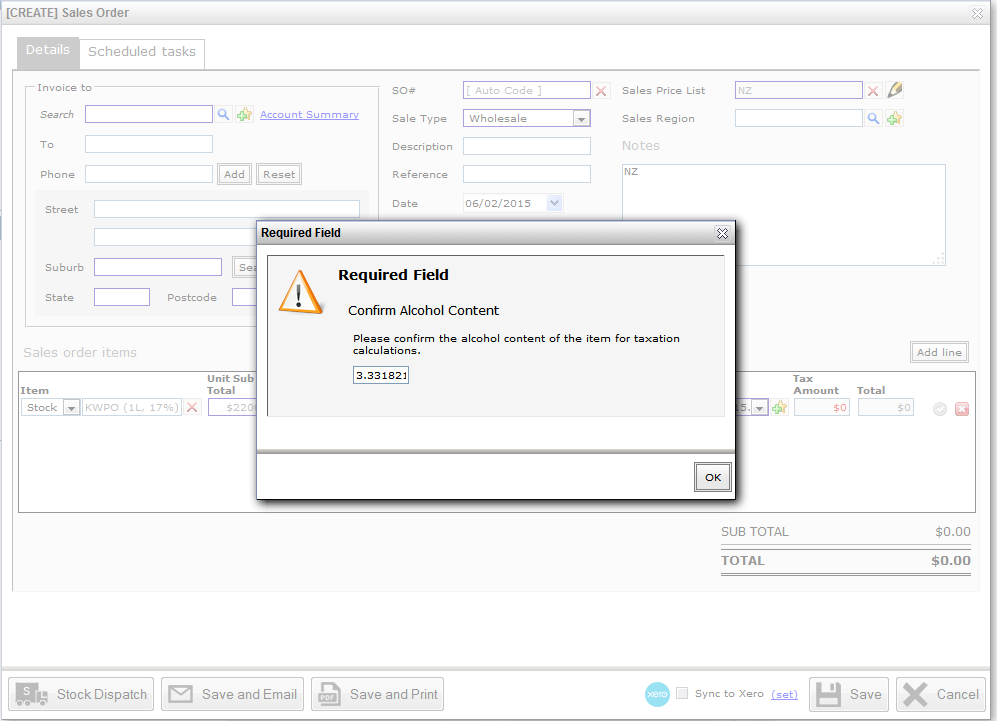 This will also set the Alcohol Content on the Stock item so that it is remembered next time. You can set this metric initially when configuring your bottled stock items as well.
Here are two different items with the same sale value, but different alcoholic metrics to show the taxable difference between the two excise rates we configured earlier.
Reporting on your Excise tax
You can run either the Sales Summary Report or the Sales Tax Report in Reports > Sales to view the Excise tax over a given period.