You can create and manage purchase orders in your winery for dry goods and general goods with vintrace.
To create a new Purchase Order use the Inventory – New PO option.
You can assign your own Purchase Order number or let vintrace generate one for you by configuring and Auto Code policy under Winery Setup – Work-flow – Auto code.
Set a Vendor and any other optional information before adding the items you wish to purchase. There are two types:
Stock – these items link directly to inventory items that you track stock levels for within vintrace. Search by the inventory stock code. You'll notice this will copy in any descriptive information as well as the current price.
General – these items are generic and won't have an impact on your stock levels. Use this for anything you'd like; barrels, tanks etc.
Selecting Save and Print will give you a PDF that you can email off to your supplier.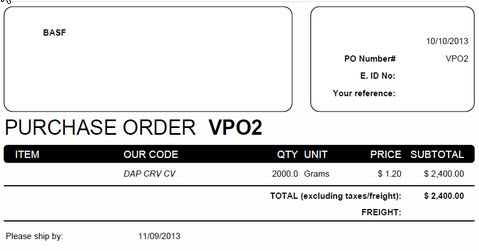 You can manage your Purchase Orders under Winery Setup -> Procurement.
Upon receipt of inventory stock under the Inventory – Receive option you can now select a Purchase Order and this will automatically fill out any expected Stock item quantities for you. You also have the option to update the purchase order state to Fulfilled if all stock was received or Part-fulfilled if you're awaiting more stock to arrive.
Accounting Package Integration
These Purchase Orders can be linked in real time with accounting packages such as Xero so that an accounts payable draft invoice is created as a placeholder for the actual invoice to arrive from the supplier. Please see this article on configuring Xero integration.
To do this. Click the sync Button on the Purchase Order.
If the sync was successful, you should have a link within the purchase order to jump to the Bill in you accounting package.