You are able to manage the charges and look at the invoice history for a Service order under Winery Setup > Billing > Service orders
Select the Service order you want to view.  You can use the options at the top to filter by Code or the Party that the order is linked to.
The [UPDATE] Service Order window allows you to change details about the service order if required after initial setup. To the right you will see a running summary of status information including:
Order status
Invoiced – the total amount invoiced to date
To be invoiced – the total value of charges not yet invoiced
Total charges – the total value of all charges both invoiced and uninvoiced
Harvest info
Contracted – the contracted harvest amount for this order
Crushed – the total amount crushed for the selected Vintage on this service order
Balance – the balance amount between contracted and crushed
Extracted – the total volume of wine extracted. Note: An asterisk here means you can mouse over for more information. In this example there is still Must on skins yet to be pressed.
Select the Charges tab for more detailed information about specific charges.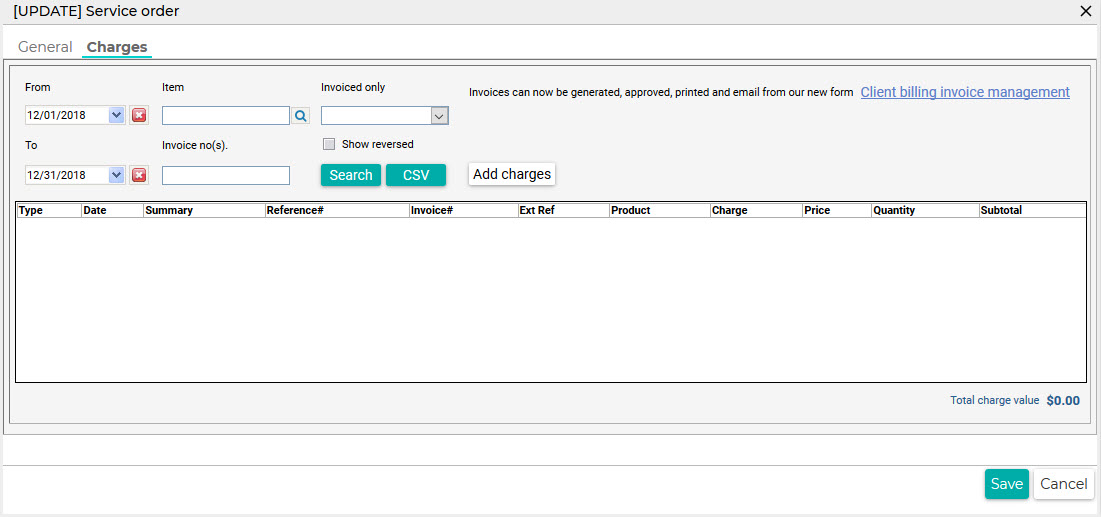 Under this tab use the filters at the top to Search for charges linked to this service order.
From – include charges recorded from this date
To – include charges recorded up to and including this date
Item – filter the charge list based on a specific Item (billing item)
Invoice no(s). – include a comma separated list of invoice numbers here to filter charges based on invoice
Invoiced only – include those charges on invoices, those not yet invoiced or both
Show reversed – include reversed charges as well
Click Search to show charges matching the search criteria.
Type – allows you to select the Charge capture itself in order to edit all the charges linked to that capture. This is useful if you want to remove a charge that hasn't been invoiced yet or even reverse one all together.
Summary – clicking on this link takes you to the actual winery operation or stock action to which the charges relates.
Invoice# – Clicking on the Invoice number prints a PDF version of the invoice.
Product – This link takes you to the batch or stock item that is linked to the charges.
Ext Ref – This link takes you to the linked invoice in Xero (accounting integration enabled).