The following steps below contain instructions on how to install and setup your barcode scanner to work with vintrace.
The following applies to windows 7 and below, unfortunately windows 8 and 10 are incompatible with this installation method and requires a manual installation.
Firstly dock the device in the cradle making sure the USB is connected to your computer, the device is on and the power is connected to the cradle. Next download the installer (located here) on to your computer and run the file. Follow all the on screen prompts selecting the default options.
If you are using Windows 8 or 10, or are unsure what version of windows you are using please contact Vintrace support.
During this process you will be prompted to install the software on to your scanner.
Select the Device option and vintrace should be successfully installed.
There are a few more files that need to be installed on to your device.  Locate these files using the File Explorer. The files will be located at Program Files > vintrace.
Install the three files below:
NETCFv2.wm.armv41
symbol.all.arm
System_SR_ENU_wm
Select the install location as Device for each of these files. You may be prompted to restart your device during these installs.
Open up vintrace from the Start Menu and click the Connection tab.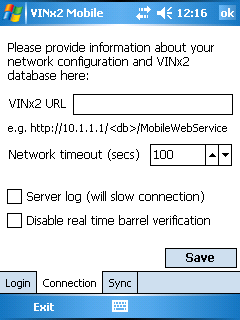 Your vintrace URL will be the same as you use to access the Web Browser version of the software but replacing the app at the end with MobileWebService. For example http://<YOUR-SERVER>.vinx2.net/XXX/MobileWebService where XXX is your client code.
After this you will need to remove the scanner from the dock to enable wireless connectivity.
Head back to the Login screen, input your credentials and press the Login button.
Once logged in you will be presented with the following screen.
Press the Sync option to synchronize data to the scanner.
To test the installation is working correctly complete a work order following the instructions listed here.