Note: If you do not already have an ETS Lab configuration in your system, create one by following the steps here.
A direct link has been implemented between vintrace and ETS Labs. This link will allow ETS labs customers to directly get their analysis data without needing to download and / or  upload files. You will need to fill out an ETS release form before proceeding. Click here to download the form.
Setting up the link
Go to the Address Book, select the ETS Lab.
Either click the Edit button to the right of Laboratory, or click the Advanced button at the bottom.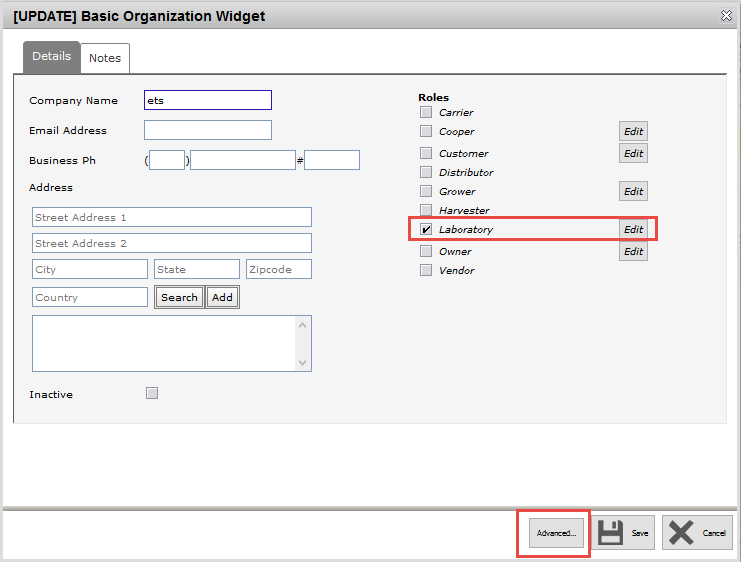 If you use the Edit button, it will take you directly to the Configure laboratory settings screen.
If you chose to click Advanced, then click the Roles tab and select the Laboratory role. Once again, the Configure laboratory settings screen will open.
Setting up the ETS Client details
In the same screen, please click on the link "Configure client ids". After this, a window will appear:
Please, enter your ETS client ID in the ClientID column and press the "check" button in the right hand side to verify that this ID is unique.  After that, press "Ok" and "Save".
Setting up metrics
Click the configure metrics link and you will be provided with a window where you will need to link the name of the metrics in vintrace with those of ETS. The Import name column is where you put the metric from ETS and it must match exactly to the metric tested including capitalization. Here is a recent ETS Metrics list
Now, click on 'Configure 3rd party lab interface'.
A new window will pop up requesting the parameters to make the link possible.
Select 'ETS Laboratories' in the dropdown and the form will fill out the default fields for connecting to the ETS webservice. (Both the Web Service URL and the Lab label file path will be filled in)
Please contact ETS I.T. to get the username and password.
Print labels
You will need to use these ETS labels when requesting lab work, if you would like to use alternative labels please contact support for advice.
Using the ETS Link
On the Lab Console, there is a new link that gets activated when ETS lab is selected.
If the laboratory has only one client, it will retrieve its data right away. Otherwise, a pop up window will appear asking to select the clients to process results for.
Once the client has been selected, The analysis metrics data will appear on the lab console screen ready to be processed.
If there is no record to process, a error message with following message will appear: "The Lab request ids supplied in the file have either all been completed, cancelled, or are invalid".