The following FAQ will cover using the extraction operation to break juice up into several tanks at crush/press.
This is useful if for example you are keeping track of free run, pressings, or simply want to place the juice into multiple lots or batches.
On this first screenshot you'll see I have outlined a couple of things, click on the image to see a larger version.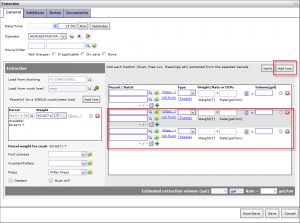 The top right red box is highlighting the Add line button, this button allows you add additional lines to the Pane below it as seen in the second highlighted area.
Here you can see I have added 2 additional lines.
Now you just need to fill out the details on each line as you would normally as shown in the next screenshot.
You can use a different batch or lot for each line if you wish.

When you click the verify button this will automatically calculate the total amount and rate/ton below.
When you are happy with the details save the operation, the fruit will be crushed and separated out into the tanks you designated with the batches/lots you specified.
If you need additional help with extracting fruit into multiple tanks feel free to contact vintrace support.